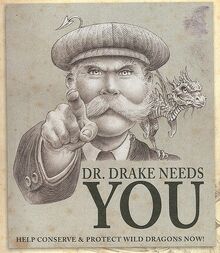 Ernest Drake was born in 1822 in Saint Leonard's Forest in Sussex. He was fascinated by dinosaurs thanks to the discovery of an iguanodon tooth found near Chuckfield also in Sussex and went adventuring in the forests where, aged 8, he found a knucker which he named weasel and believed to be a dinosaur. No one believed his tale until he went to a meeting of the Sussex Archaeological Society on his tenth birthday and met Ebenezer Crook who told him about dragons.
He wanted to go and study dragons with Ebenezer but his parents disagreed and sent him off to Saint Leonard's School where he remained focused upon dragons and did not perform very well academically. His parents then sent him off to university where he managed to focus and pass his course but his heart remained with dragons and so when he finally graduated in 1843 aged 21 he went to Bodmin to rejoin Ebenezer.
He studied under her for 4 years before beginning a round the world tour to study dragons and was introduced to eastern dragons by Miss Ta. He then conducted groundbreaking research on the migratory habits of frost dragons - the results of which are the reference material to this day which he submitted for his doctorate in dragonology allowing him to assume the title of "Doctor of Dragonology" and Dragonologist First Class.
He traveled to London where he, along with an american assistant called Emery Cloth, founded Dr. Drake's Dragonalia on Wyvern Way as a new front for the age old S.A.S.D. where he taught a few pupils (mainly the children of other dragonologists).
He published a book titled The Complete Book of Dragons which had a print run of 100 copies in 1896 and published several subsequent books. The theme of all of these works is that dragons ought to become objects of scientific study and that, as they are scarce, it is the responsibility of dragonologists to conserve and protect them wherever they may be found.